Making a difference for the future of hunting and wildlife conservation.
Mission
SCI El Paso Chapter members are from the El Paso, Texas metro area, west Texas and southwestern New Mexico regions. We are ethical hunters and conservationists who are dedicated to promoting wildlife conservation and advocating hunting and hunter's rights. We are also deeply committed to educating the public and are actively involved in humanitarian projects. Our Chapter is proud to be part of Safari Club International (SCI), a non-profit powerhouse dedicated to protecting the freedom to hunt and promoting wildlife conservation worldwide.
Projects
Since its founding in 2003, the El Paso Chapter has contributed more than $500,000 to projects that further our mission. Thanks to SCI's unique chapter model, the chapter is allowed to direct funds and support projects as the chapter sees fit. Because of this model, we have been able to support projects throughout Texas and New Mexico. For more details, please visit our main Projects page.
The best way for you to help us carry out mission programs is to attend our annual Safari Nights Fundraiser. Our next event is scheduled for February 9, 2019. Be sure to visit our Banquet page for more information and to purchase tickets today!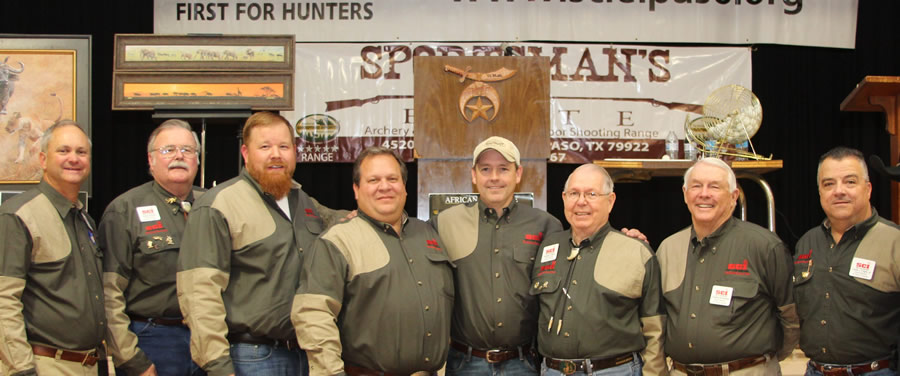 History
The SCI El Paso Chapter was founded in 2003 by a group of dedicated volunteers who believed they could help[ carry out SCI and SCIF's mission programs at the local level. That group has evolved over time, but the chapter is still led by a core group of volunteers who put on an outstanding fundraising banquet each year where people have a lot of fun and help raise funds to support local projects at the same time.
The chapter is a recognized 501(c)(4) organization having been organized for the purpose of promoting social welfare through its support of Conservation, Education, and Humanitarian projects.
We invite you to be a part of our future by joining SCI as a member, attending our fundraising banquet and volunteering your time, talent or treasure for our chapter projects.
To join SCI today, contact the World Headquarters at 520-620-1220 or visit their website by clicking here.